Casio Musical Instruments Jordan. Buy Casio LK-S450 digital keyboard from the exclusive authorized distributor of Casio music in Jordan Dukkan Piano.
Easy, Fun, Always by Your Side
It's never too late to start playing the keyboard. Explore new ways to learn music with the LK-S450. Fun is key to learning. The simple, user-friendly interface provides access to a variety of high-quality tones and multiple functions plus a hands-on learning guide so you can progress at your own pace.
What are you waiting for? The LK-S450 is ready when you are.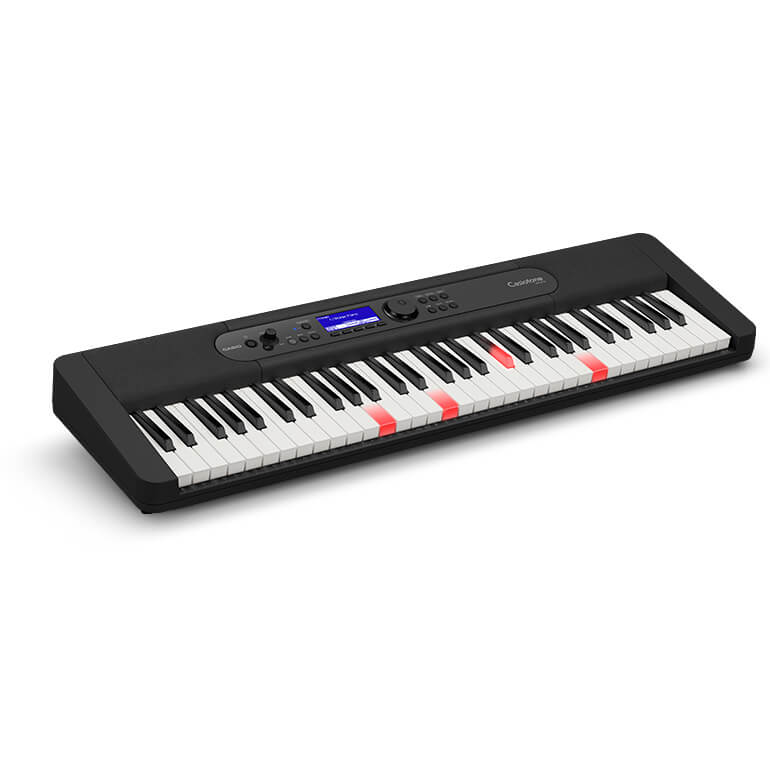 Description:
61 Touch Response keys with Key Lighting system
600 AiX-powered Tones, 200 Rhythms
Optional WU-BT10 Bluetooth MIDI/Audio adapter
Specification :
Keyboard
61 keys
Touch Response
3 types, Off
Keyboard
Lighting
Maximum number of keys simultaneously lit:
10,
can be disabled
Maximum
Polyphony
48 notes
Sound Source
Preset Tones: 600
Other: Layer, Split
Effects
Reverb (20 types, Tone, Off); Chorus
(10 types, Tone); DSP (Built into some tones)
Metronome
Beat: Beat chime off, 1 to 16 beats
Tempo: 20 to 255
Song Bank
Demo Song: 1
Built-in Songs: 160
User Songs: 200*1
Part Off: Left hand, right hand,
both hands
Lesson
Function
Lesson Type: 3 steps
(LISTEN, WATCH, REMEMBER);
EASY Mode
Lesson part: Left hand, right hand,
both hands
Other: AB Loop, Fingering Voice Guide,
Note Sound Guide, Performance Evaluation
Auto
Accompaniment
Preset Rhythms: 200 types
User Rhythms: 10 types
One Touch Presets: 200 types
Other: INTRO, ENDING; chord fingering
mode switching
Chord Book
Chord Sound Guide
Demo Function
Built-in Song Bank (110 songs)
MIDI Recorder
Real-time recording, playback
Tone Recording: 1
Rhythm Recording: 1
Multi-track Recording: 5 songs,
6 tracks (1 system track, 5 solo tracks)
Capacity: 1 song, approximately 40,000 notes
Function Volume
Adjustment
Metronome; Rhythm; Song
Other
Functions
Transpose: ±1 octave (-12 to 0 to
+12 semitones)
Octave Shift: -3 to 0 to +3 octaves
Tuning: A4 = 415.5 to 465.9Hz
(Initial Default: 440.0Hz)
APP Function
Supported Devices: iOS, Android
(USB terminal connection)
MIDI Function
16-channel multi-timbre receive;
GM Level 1 standard
Jacks
PHONES/OUTPUT jack: Stereo mini jack
MIC IN jack: Standard jack (dynamic
microphone connection);
(Input impedance: 3 kΩ; Input sensitivity:
10 mV)
AUDIO IN jack: Stereo mini jack
(Input impedance: 10 kΩ; Input sensitivity:
200 mV)
USB TO HOST port: micro-B
USB TO DEVICE port: Type A
PEDAL jack: Standard jack (pedal sustain,
sostenuto, soft, metronome)
AC adapter
terminal
9.5V DC
Power
Requirements
2-Way Power
[Batteries]
AA-size alkaline batteries × 6 or
AA-size rechargeable nickel metal
hydride batteries*2 × 6
Battery Life: Approximately 3 hours
continuous operation
Actual continuous operation time may
be shorter due to battery type,
performance type, and usage environment.
[AC Adaptor]
AD-E95100L (DC 9.5V)
Speakers
13 cm × 6 cm (oval) × 2 (Output:
2.5 W + 2.5 W)
Power
Consumption
9.5 V = 7.5 W
LCD
Adjustable contrast
Dimensions
93.0 (W) × 25.8 (D) × 8.4 (H) cm
(36 5/8 × 10 3/16 × 3 5/16 inch)
Weight
Approximately 4.6 kg (10.1 lbs)
(Excluding batteries)