The 508 Decorator Console is specially designed to meet the needs of those who require elegance, high quality and exceptional durability in an instrument, without a premium price tag. This finely-crafted, superb-sounding instrument will provide satisfying musical enjoyment for years to come.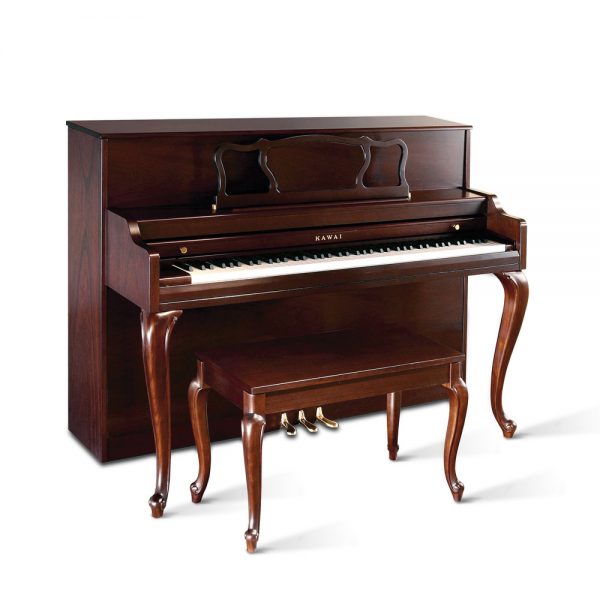 Description :
The 508 Decorator Console Upright Piano embodies three essential elements of a fine piano — a superior soundboard made of solid spruce, a durable back assembly with sturdy backposts, and our exclusive Ultra-Responsive Direct Blow Action. These important elements ensure a level of tone, touch and durability that will satisfy the needs of any pianist. Add a stylish cabinet with attractive, elegant lines and the result is a finely-crafted, superb-sounding instrument that will provide satisfying musical enjoyment for years to come. The 508 Decorator Console is part of the Designer Series of Upright Pianos.
FEATURES :
THE WORLD'S MOST PRECISE UPRIGHT PIANO ACTION
Kawai upright pianos feature our exclusive Ultra-Responsive Direct Blow action that offers extraordinary feel and touch. Hammer heads are made with 100% wool felt. Hammer shanks and moldings are made with top-quality maple. To make the action resistant to climatic and seasonal changes in temperature and humidity, we pioneered the use of aluminum action rails, aluminum hammer rest rails and precision parts made of extremely stable, low-friction ABS Styran.
EXCLUSIVE ABS STYRAN ACTION PARTS
The innovative use of ABS Styran in all our piano actions is one of the chief reasons why a Kawai piano will maintain stable touch and tone over time better than other pianos. Endorsed by leading piano technicians and proven superior in scientific tests, ABS Styran is supported by over thirty years of proven reliability in Kawai pianos. Read the Truth About ABS.
LONGER KEY STICKS
The 508 cabinet is built with added depth (24″) to accommodate a longer key length for better control. The extended 16 1/4″ keys offer greater leverage at every point of the playing surface for a more even, controlled touch.
SOUNDBOARD AND RIBS
The most important sound-producing parts of a piano are the soundboard and ribs. The choice of materials and the manner in which they are assembled can greatly affect volume and tone quality. Our wood technologists select only the finest spruce to ensure exceptional dynamic range and superb tone across the entire spectrum of sound. The Kawai upright pianos boast an exceptionally large soundboard area for greater tonal power and resonance.
BACK POSTS
Back posts support the plate and help maintain its structural integrity over the life of the piano. Our laminated back post construction is designed for maximum rigidity to provide enhanced tuning stability for decades of reliable performance.
MATCHED STRENGTH PLATE DESIGN
The cast iron plate of an upright piano is subjected to as much as 20 tons of string tension. To enable our plates to withstand this tremendous stress, we use state-of-the-art CAD technology to match the strength and natural tonal resonances of the plate to the requirements of the scale design. The proper combination of plate design, back post structure, and string tension provides an extraordinary foundation for outstanding tone.
PINBLOCKS
A pinblock must be constructed and finished to the highest quality standards to ensure maximum tuning stability. At Kawai, we make our pinblocks from the finest hard rock maple and utilize machine-cut thread, reverse-torque tuning pins for easy tuning.
CAST BRASS PEDALS
Kawai's exclusive Cast Brass Pedals are extremely resilient. Made with a permanently bonded brass finish over a die-cast aluminum core, Kawai Cast Brass Pedals are significantly stronger and more durable than traditional "capped" upright piano pedals.
TEN YEAR FULL WARRANTY
To ensure your peace of mind and protect the value of your investment, every Kawai upright piano is covered by our Ten Year Fully Transferable Warranty. This warranty is the seal of Kawai Craftsmanship… and the assurance of your satisfaction for many years to come.